Meet Your Sheriff
---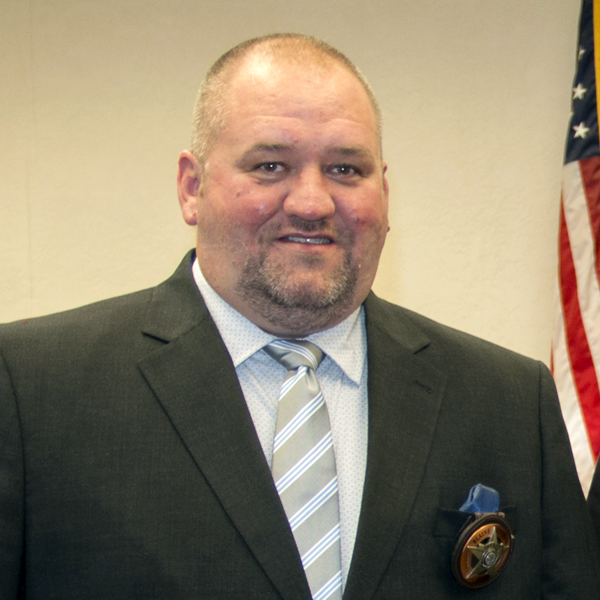 Sheriff Travis Daugherty
Sheriff Travis Daugherty was raised in Blaine County where he and his family still currently reside. He graduated from Watonga High School in 1996 and began his law-enforcement career by serving as a jailer and dispatcher for the Blaine County Sheriff's Office.
Prior to receiving his certification from the Oklahoma Council on Law Enforcement Education and Training (CLEET), Daugherty served as a reserve deputy for the Blaine County Sheriff's office and a Police Officer for the Canton Police Department. He then accepted the position of a federal police officer with the Cheyenne and Arapahoe tribes.
Following his work with the Cheyenne and Arapahoe Tribes, Daugherty served as a full-time deputy sheriff for the Blaine County Sheriff's Office. He was instrumental in several large drug busts that dealt a heavy blow to the manufacturing and distribution of methamphetamines in Blaine County. During one traffic stop, Daugherty discovered two meth labs in a vehicle, which was being driven by a member of Daugherty's own family. Daugherty arrested his relative because he believes in being a part of the solution to the drug problem in Blaine County!
Daugherty served as the Blaine County Undersheriff under Sheriff Margarett Parman in 2016. During this time Daugherty made multiple drug arrests and seizures as well as serving multiple drug warrants in Blaine County after attending the Oklahoma Bureau of Narcotics training school. During his time as undersheriff Daugherty worked alongside all Blaine County Police Departments, Oklahoma Highway Patrol, Department of Ag., Department of Homeland Security, as well as Texas and Southwest Cattle Ranchers Association.
Travis has taken advantage of the opportunities he has received through his work in law-enforcement by attending continuing education and training courses. Daugherty has more than 1200 hours of law-enforcement training in areas ranging from criminal investigation and various drug detection and interdiction techniques. He has completed all of the management training courses offered by CLEET. Daugherty stated "I will strongly attack the drug problem and give the people of Blaine County the kind of law-enforcement that they deserve and can rely on."
"Education is the key to building a better Sheriff's Office and a better, stronger community," says Daugherty. I will support and encourage all personnel to extend their knowledge and skill sets. I believe that the benefit of training will produce better response times where a matter of seconds can make a difference between life and death."
Along with his work stopping drug trafficking throughout Blaine County, Travis utilized his training to solve numerous cases from small petty theft to being instrumental in solving murder cases that all led to the apprehension of the suspect.
Daugherty is endorsed by three previous Blaine County Sheriff's and looks forward to his own term as Sheriff and will strive to continue protecting and serving the citizens and visitors of Blaine County as well as making it a better and safer place to live.